Late last week, new language was released that will likely be included in the budget sent to Governor Newsom for his signature. The budget deal, as negotiated between the Legislature and the Governor's office, includes many fiscal and policy changes to services and supports for people with disabilities.
A central conversation in this year's budget was a recent rate study that concluded that the state has underfunded regional center services by $1.2 billion. The budget deal resulted in an initial investment of $125 million next year, increasing to $250 million the following year, but added a sunset date (a date when those investments would stop) of December 31, 2021. As a result, the advocacy community pushed hard for commitments beyond just a one-time investment, including comprehensive system reform that would move California toward a fully funded system of services and supports.
Both the Assembly and Senate Budget Committees passed language that would require the state to begin implementation of system reform and adoption of elements of the rate study by next year. The Governor's office, however, stopped short of agreeing to any hard requirements for system reform or future investments; instead, the final agreement included requirements for stakeholder discussions starting this Summer that will focus on "how to create a sustainable, innovative, cost-effective, consumer-focused, and outcomes-based service delivery system." The full language of the proposal language can be found here in Section 9.
Additionally, the new language includes new proposed requirements for regional centers, IPP meetings, and the Department of Developmental Services. Such requirements include:
Allows regional center to pay copayment or deductible for health care services, if needed, regardless of income (currently only allows for people with incomes up to 400% of federal poverty level).
Requires regional center Board of Directors to include individuals with specific skill sets (e.g. financial and governance).
Require regional centers to post on their websites assessment tools used and to report quality assurance reports.
Require regional centers to maintain an average service coordinator-to-consumer ratio of 1 to 25 for consumers with complex needs.
Require the Department to submit an updated plan for safety net services.
The full language of these proposed changes can be found here.
14 Day Uniform Holiday Schedule is suspended until January 1, 2022.
Half-Day billing is not suspended and will remain enforced.
There is no fix to the minimum wage "quirk" (meaning that services in regions with local minimum wages higher than the state minimum wage will still no longer be eligible for increases when the state minimum wage goes up January 1).
Social recreation and camp will not be restored.
Did not approve the Assembly's version of an additional $5 million for safety net services for dually-diagnosed consumers.
No additional Prop 56 funds for ICF-DDs.
$17.4 million General Fund in 2019-20 and $40.5 million ongoing to restore the following optional MediCal benefits: (a) audiology (b) incontinence creams/washes (c) optical (d) podiatry (e) speech therapy.
No SSP COLA increase.
Sunset on the 7% increase to IHSS remains.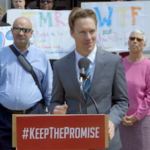 Jordan Lindsey, Executive Director, The Arc of California