The Arc of California is administered by a passionate and exceptionally qualified team:
Jordan Lindsey, Executive Director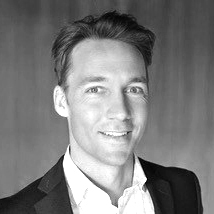 Jordan Lindsey was named executive director of The Arc of California in March 2017. Prior to joining The Arc of CA he held a number of leadership positions in advocacy organizations, including executive director of the California Association for Behavior Analysts, and director of policy, advocacy, and public affairs for the California Association for Health Services at Home. He first joined California's Arc community in 2007 as director of public policy and grassroots advocacy, as well as director of the popular advocacy training program, Partners In Policymaking. From 2005-2007 he worked in the State Capitol as a legislative aide to Assemblymember Carol Liu, allowing him to serve the interests of his hometown Los Angeles area. He holds an MBA from Berkeley and a bachelor's degree with a major in psychology from UC Davis. From 1999-2001 Jordan worked as a direct support professional in respite care for people with intellectual and developmental disabilities. Jordan lives and plays in Sacramento, CA with his wife, Misha, and their three young children.
Patricia Albeño, Director of Projects & Outreach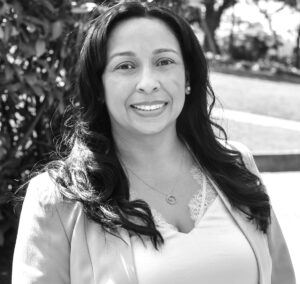 Patricia Albeño has been part of the developmental disabilities community working for organizations that support families who have a family member with disabilities. Her passion and mission is to provide support, information and education to parents who need help navigating the complex system of services. Her experience as a mother of a child with a disability allows her to understand firsthand the challenges and needs of the community with which she works. She has dedicated the past five years to coordinating and organizing Congreso Familiar, a conference for Spanish-speaking families who have family members with IDD. She is a strong advocate for the Latino community because she understands how complicated the disability world can be and cannot imagine learning new systems without speaking the language. Professionally, she has actively participated as a Community Advisory Committee member and chair for Special Education in the West Contra Costa Unified School District, is a former Board Member of the Regional Center of the East Bay, has been a member of the committee for the Autism Star conference, has facilitated numerous Spanish-speaking support groups and conducted IEP trainings and workshops throughout Contra Costa county. She has learned that balancing the needs of her child, successful navigation of various service systems and working full time has been a unique challenge, one that has required her to learn special skills to adapt and continue to be the best parent she possibly can.
Julia Ballantyne, Media Advocacy Consultant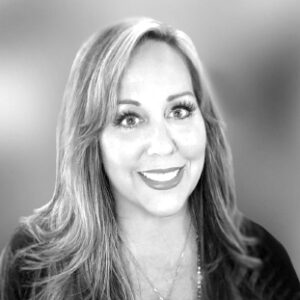 Julia is a public relations, communications and marketing professional who develops and implements strategic public awareness, education and advocacy campaigns to increase visibility and inspire change for the developmental disabilities community. Julia has worked with a variety of national and statewide disability organizations for more than 15 years to protect the rights of people with disabilities. Using multifaceted traditional and digital media strategies, Julia ignites online issue-based dialogues, creates strategic partnerships and fosters information exchanges around campaigns, causes and brands in the nonprofit sector. Before the pandemic, Julia spent two years working with professors at Santa Clara University to design curriculum for the Marketing and Communications Department capstone class and was a regular guest lecturer. Julia holds a BS in Journalism and is in the process of completing a graduate degree in integrated marketing and communications at Purdue University.
Daphne Chakurian, Director of Family Engagement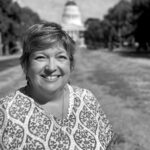 Daphne Chakurian has been a licensed Registered Nurse in California for over 30 years with experience in hospital and community health nursing, case management, nursing management, and quality improvement. Prior to joining The Arc of California, she worked in quality improvement for Kaiser Permanente Home Health and Hospice Agency in Sacramento, California focusing on medication safety in the home setting as well as developing family caregiver resources. Since 2018, she has also studied Nursing and Healthcare Innovation at the Sinclair School of Nursing, University of Missouri, and is expecting to graduate with a PhD in Fall 2023. Her research interests are family caregiver stress, coping, and resilience. Her grant-funded doctoral dissertation investigates the social health of family caregivers of autistic adults.
Daphne holds a bachelor's degree in nursing from Cal State Fullerton and is a certified public health nurse in California.  Daphne is a member of several professional societies including the Gerontological Society of America. She is board certified in case management and has experience in counseling families on care coordination, transitions, home health and hospice, and future care planning in hospitals and in communities. Her publications on care coordination and family caregiving in palliative cancer care were published in scientific journals in the United States and in Europe.
Daphne is married to Tony and is the parent of two children. She became involved in the disability advocacy community after her oldest son was diagnosed with autism at age 7. Her journey to becoming an advocate for her son's education and healthcare inspired her to go back to university to research and improve services and supports for people with developmental disabilities and their caregivers. She volunteers her time in projects supporting the IDD community such as the Alta California Regional Center Future Care Planning Task Force on caregiver succession planning.
Greg deGiere, Civil Rights Advocate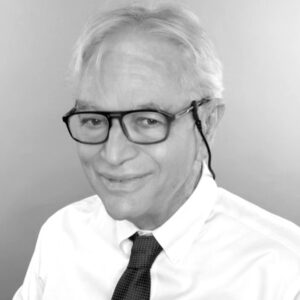 Greg deGiere volunteers for The Arc of California as the civil rights advocate and a member of the Public Policy Committee. Greg is a member of the Advisory Board of the Center for the Study of Hate and Extremism at CSU San Bernardino, an advisory member of the Santa Clara County Hate Prevention and Inclusion Task Force, and a member of the Legislative Committee of the California Alliance for Retired Americans. He has coordinated a working group of California civil rights organizations advocating legislative and Department of Justice action to combat hate crimes. His twin focuses in that role are hate crimes in general and anti-disability crimes in particular, known as the "the invisible hate crimes." A former long-time staff member to Democratic leaders of the California Legislature and consultant to the Senate Office of Research, Greg is also the retired public policy director of the Arc and United Cerebral Palsy California Collaboration. He has developed and drafted major, bipartisan civil rights legislation. He holds a B.A. in political science from San Francisco State University and an M.A. in government from California State University, Sacramento, where he also taught California state and local government. Greg has a nephew with Autism Spectrum Disorder.
Jim Frazier, Public Policy Director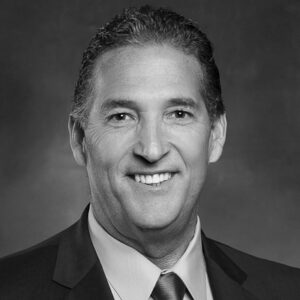 Jim Frazier is a retired California State Assemblymember who represented California's 11th Assembly District in Fairfield from 2012 until 2021. Frazier is a longtime statewide advocate for the developmental disability community. Prior to joining the Assembly, Frazier was a small business owner, co-founder of two nonprofits, and served on the City of Oakley Planning Commission, the Oakley City Council, and served one term as City of Oakley Mayor. Frazier's life work has been to support Californians with disabilities and address challenging State of California issues such as serving our Veterans, creating more jobs, building the economy, transportation and mobility and water challenges.
Frazier became involved in public service after a family tragedy on December 16, 2000, when his two daughters were involved in a head-on auto collision caused by black ice on their way to Lake Tahoe. The accident was fatal for his oldest daughter, and badly injured his younger daughter.  The tragic accident sparked Frazier's interest in helping others and prioritizing those who have been neglected and underserved in California.  Along with highway safety and transportation infrastructure improvements, non-profits have been a big part of Frazier's career. He co-founded two non-profits; the first was The Network of Care which serves 65 Hospitals statewide, providing meals to parents whose children are in the hospital with a health crisis.  The second is the Friends of Oakley Community Foundation, which provides disadvantaged community members with many core needs, such as food, clothing, and holiday gifts.
In 2018, Frazier was appointed the Chair of the Select Committee on Intellectual and Developmental Disabilities.  This Committee was formed at the request of then Assemblymember Frazier to shine a light on the disabilities population as one of the most underserved groups in California. Throughout his nine-year legislative career, Frazier introduced many bills and fought tirelessly to pass legislation enhancing the lives of those with disabilities, and the heroes who served our country.
Frazier is excited to continue his advocacy journey in his new role as the Public Policy Director for The Arc of California to ensure the developmental disability community is represented in policy discussions and outcomes.
Selene Gonzalez-Contreras, Project Coordinator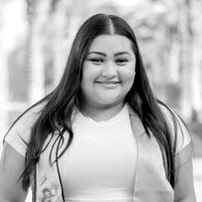 Selene Gonzalez-Contreras is a close family member to someone who is part of the developmental disabilities community. As a youth immigrant, Selene experienced the hardships of learning a language while also helping her family member navigate the various services available. Due to this, Selene has always volunteered at Congreso Familiar, a family resource center in the East Bay, and has advocated for the disability community, especially within the Spanish speaking community. Before joining The Arc of California, Selene was employed as a medical assistant, where she met many great people who are part of the disability community. She was able to relate to the ongoing struggles of her patients and their families. She is a recent graduate from Arizona State University, where she received a bachelor's degree in Spanish.
Tim Hornbecker, Grassroots Advocate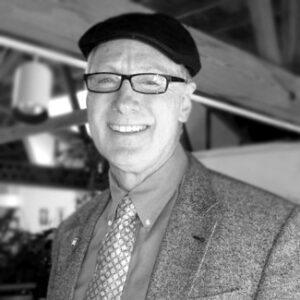 Tim Hornbecker volunteers for The Arc of California, coordinating Grassroots Advocacy. He represents The Arc on the Board of Directors for Gamaliel of California community organizing, while serving as their treasurer. Tim has organized local and statewide trainings with Gamaliel and The Arc families and participants with disabilities to become leaders and advocates. They learn how to tell their stories, decide on their most important issues, become leaders, and organize ACTIONS and Rallies locally, statewide, and nationally. Tim is a former Executive Director of local chapters of The Arc in Washington and California, Past President for The Arc's National Conference of Executives, as well as Past President for The Arc of Washington State and elected to The Arc United States Board of Directors. He is a former Special Ed teacher with B.A. and M.A. Degrees, but most importantly grew up with his cousin Patti with Down syndrome and stepdad of Joseph with Angelman syndrome.
Joe Perales, Director, El Arc de California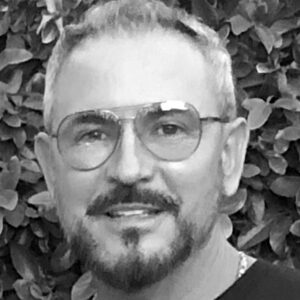 Joe Perales has been a leader and contributor for the intellectual and developmental disabilities community for over 40 years working for organizations and school districts that provide support and education for families and their children. His passion for helping people with disabilities is close to his heart; having a family member on the spectrum has allowed him to understand firsthand the challenges and needs of the IDD community, especially the Latino community. Prior to joining The Arc of California as Director of El Arc de California, he spent 28 years of his career working at the Frank D. Lanterman Regional Center in various capacities, assisting and supporting parents and loved ones in navigating and accessing the regional center system. Joe is an advocate by nature having led, organized, coordinated, and participated in different community efforts such as grassroots, manifestations and rallies to address critical issues related to services and programs for those with disabilities. Joe's mission is to ensure that people with intellectual and developmental disabilities, their parents, siblings, and family members have meaningful opportunities to educate and empower themselves to become better advocates for their loved ones. Joe holds an MBA from Woodbury University in Burbank Ca., and a BA with a concentration in Public Relations from the Autonomous University of Nuevo León, Monterrey, Mexico, and a Certified Adult Special Education Teaching Credential from the University of California Los Angeles (UCLA).
Julia Silver, Administrative Coordinator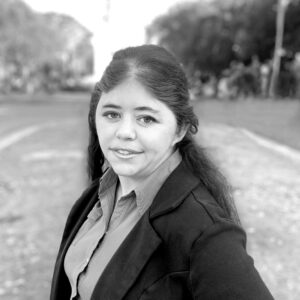 Julia Silver is a Administrative Coordinator who joined The Arc of California in 2022. She is focused on growth, and utilizes customer service skills to connect to the public, all while making the world a better place. Before coming to The Arc of California, she worked as an Administrative Assistant at Genius Kids Childcare. She holds a B.A. in Communication Arts from Linfield College in McMinnville, Oregon.  She really enjoys interacting with others and teamwork. Her dream has always been to work in the nonprofit sector, making a difference in the lives of others.  When not engaged in work, she spends time with friends, family, and enjoying the outdoors.
Monica Soria, Project Coordinator, El Arc de California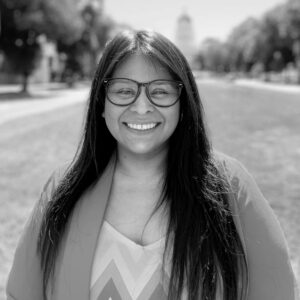 Monica Soria is a parent of two children with special needs, leading her on a journey of advocacy and a passion to serve the disability community. Prior to joining The Arc of California Monica worked for a family resource center in Stockton and was a volunteer for Escuchen mi Voz, where she learned more about the barriers and hardships that face the Latino disability community. Monica graduated from Modesto Junior College in 2021 with an associates degree in Political Science and then recently graduated from Sacramento State University with a bachelor's degree in Political Science. Monica is also a proud graduate of Partners in Policymaking.
Samantha Thalken, Project Coordinator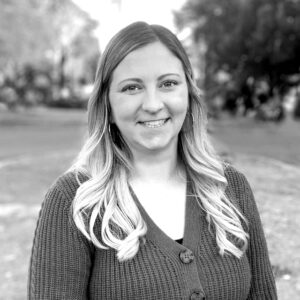 Samantha Thalken provides support and coordination services for many of the projects that The Arc of California is involved in. Before joining The Arc of California, Samantha worked alongside self-advocates within a local direct support agency that focused on equitable employment and community-integration services. Throughout her many years of providing direct support, Samantha was given the opportunity to connect with self-advocates, their families, employers, and community members in many capacities. After observing the continuous obstacles that people with disabilities face on a daily basis, Samantha was inspired to grow in the fields of advocacy and public policy to assist in creating a more just world for all. Utilizing her person-centered thinking skills and her passion for equality, Samantha is committed to breaking barriers.