The Arc Is Governed By A Dedicated Board Of Directors:
BETSY KATZ, BOARD PRESIDENT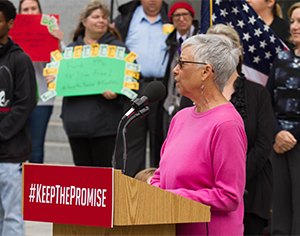 Betsy Katz has been a member of the Board of Directors since 2009; prior to that she was the Program Director for 15 years at Care Parent Network, the Contra Costa Early Start Family Resource Center. She is the parent of an adult son with an intellectual disability, and as such is committed to The Arc of California's purpose and core values, including community participation for people with intellectual disabilities and their families, and the leadership, diversity, excellence, and integrity that will enable us to achieve those goals.
(use image named 5392 for Betsy)
Grace M. Huerta, Board Vice-President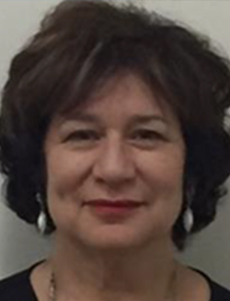 Grace M. Huerta of Bakersfield, California. Grace is President and co-founder for the Exceptional Family Center in Kern County, which was founded in 2007 by a group of parents and professionals who recognized the need for a center that is culturally sensitive to the unique needs of our diverse community. The center was created with the intent to provide families of children with a developmental disability with the tools and resources that they need to help their children succeed. What began as an annual conference soon turned into a center that, today, assists more than 300 families by providing them with services that target their specific needs. After graduating from The Arc of California's Partners in Policy Making, she partnered and collaborated with her mother-in-law, Civil Rights Leader, Dolores Huerta. Grace became a community leader in organizing, training other parents with effective advocacy skills. Grace currently supervises and manages the Early Start Family Resource Center, a program made possible by a contract with the Department of Developmental Services (DDS). Grace has seen the difference people make when they get involved in the community. Grace has been recently selected to receive the 2019 Latina Leaders of Kern County Award.
PAT HORNBECKER, BOARD SECRETARY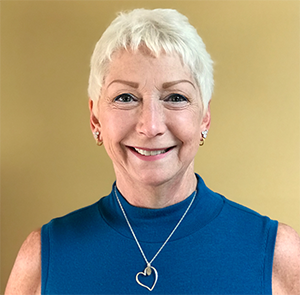 Pat Hornbecker is mom to Joseph, a young man with Angelman Syndrome. Pat is a dental hygienist by profession. And as an advocate for people with I/DD she has served on local/state/national boards of The Arc for the last 30 years.
RAYMOND HAMPSON, BOARD TREASURER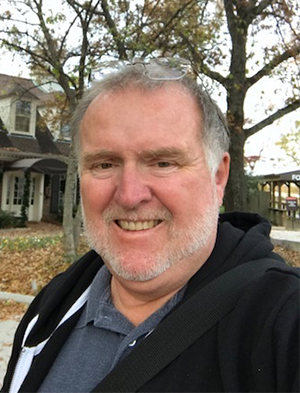 Raymond is a parent of a 28 year old Alta CA Regional Center client. Raymond graduated from Partners in Policymaking in 2007 and also spent over 12 years as a member of the San Juan USD CAC. Two of those years, Raymond was the Board Chair. Raymond has been married for 38 years and lives in Orangevale.
RICHARD FITZMAURICE, IMMEDIATE PAST PRESIDENT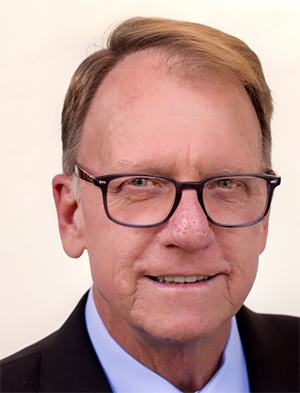 After his son, Scottie received top notch services from The Arc of Alameda County, Richard Fitzmaurice served on its Board of Directors from 1994 to 2009. He became the Arc Alameda County representative to The Arc of California Board in the early 2000s serving as Vice President from 2009 to 2013 and President from 2013 to 2017. During his term, Fitzmaurice encouraged the organization to focus on increasing reimbursement rates the Legislature and Governor slashed during the 2008 recession.
CONNIE UYCHUTIN, CCE-CO CHAIR, EXECUTIVE DIRECTOR of THE Arc of SAN JOAQUIN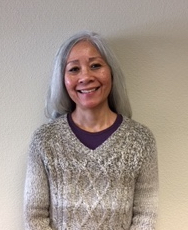 PATRICIA SCHULZ, CCE-CO CHAIR, EXECUTIVE DIRECTOR of THE Arc of VENTURA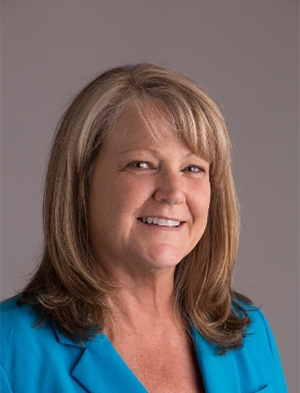 BOARD MEMBERS
Joe Meadours
Ryan Duncanwood
Patty Moore
Stephen Dale
Betty Clark
Suzetta Ariza
Jim Baldwin
Michael McGinnis
Christine Totah
Joan Beyer
Peter Bowers
Fred Robinson
Dwight Stratton
John Kelly
Silvia Cameron
Pat Heineke
MaryAnne Hagstrom
Mary Platt
Connie Uychutin
Kristina Oxnevad
Richard Balocco
Linda Plourde
The Arc of California is administered by a passionate and exceptionally qualified team:
JORDAN LINDSEY, EXECUTIVE DIRECTOR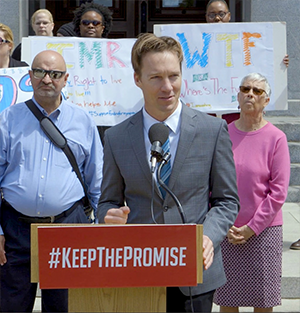 Jordan Lindsey was named executive director of The Arc of California in March 2017. Prior to joining The Arc of CA he held a number of leadership positions in advocacy organizations, including executive director of the California Association for Behavior Analysts, and director of policy, advocacy, and public affairs for the California Association for Health Services at Home. He first joined California's Arc community in 2007 as director of public policy and grassroots advocacy, as well as director of the popular advocacy training program, Partners In Policymaking. From 2005-2007 he worked in the State Capitol as a legislative aide to Assemblymember Carol Liu, allowing him to serve the interests of his hometown Los Angeles area. He holds an MBA from Berkeley and a bachelor's degree with a major in psychology from UC Davis. From 1999-2001 Jordan worked as a direct support professional in respite care for people with intellectual and developmental disabilities. Jordan lives and plays in Sacramento, CA with his wife, Misha, and their three young children.
TERESA ANDERSON, PUBLIC POLICY DIRECTOR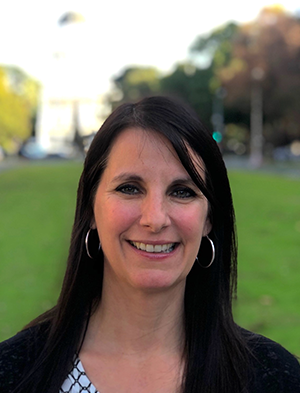 Teresa Anderson is the Public Policy Director for The Arc and United Cerebral Palsy California Collaboration. Over the last 15 years and prior to becoming the Public Policy Director, Teresa worked on a variety of special projects for The Arc of California including; staffing the Fetal Alcohol Spectrum Disorders Statewide Taskforce and Prevention Committee for the Board of Directors, research on poverty issues among people with intellectual and developmental disabilities (IDD), increasing advocacy and awareness of sexual assault and abuse of people with IDD, health advocacy and criminal justice issues. In the earlier years of her career, Teresa worked as a direct support professional providing services in day programs, supported employment, residential, education and behavioral crisis settings. In addition to her work for The Arc of California, Teresa provided legislative and regulatory advocacy in the health care arena with much of her efforts focused on increasing access to care, vulnerable populations and the need to expand the health workforce. She holds a Bachelor's Degree in Child Development from Sacramento State University and a Masters Degree in Public Health from Drexel University. Her graduate work, research and thesis centered on Health Advocacy for People with IDD. Currently, Teresa is attending law school with an interest in criminal justice issues within the IDD community.
ANGEL PICON, DIRECTOR OF COMMUNITY ORGANIZING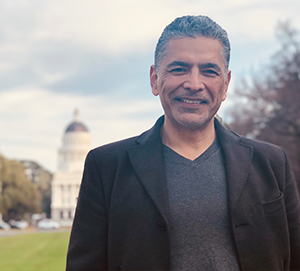 Angel Picon has more than 15 years of organizing experience; having worked with Dolores Huerta and UFW, SEIU, and various community organizations in the Central Valley. As a youth immigrant himself, Angel organized a 20,000 person demonstration in San Joaquin County to support immigrant rights and was also a regional director for Congressman Jerry McNerney. Prior to joining The Arc of California, Angel was a federal liaison working with former NASA Astronaut Jose M. Hernandez sending satellites to space in cooperation with the Mexican Federal government.
PATRICIA ALBENO, DIRECTOR OF PROJECTS & OUTREACH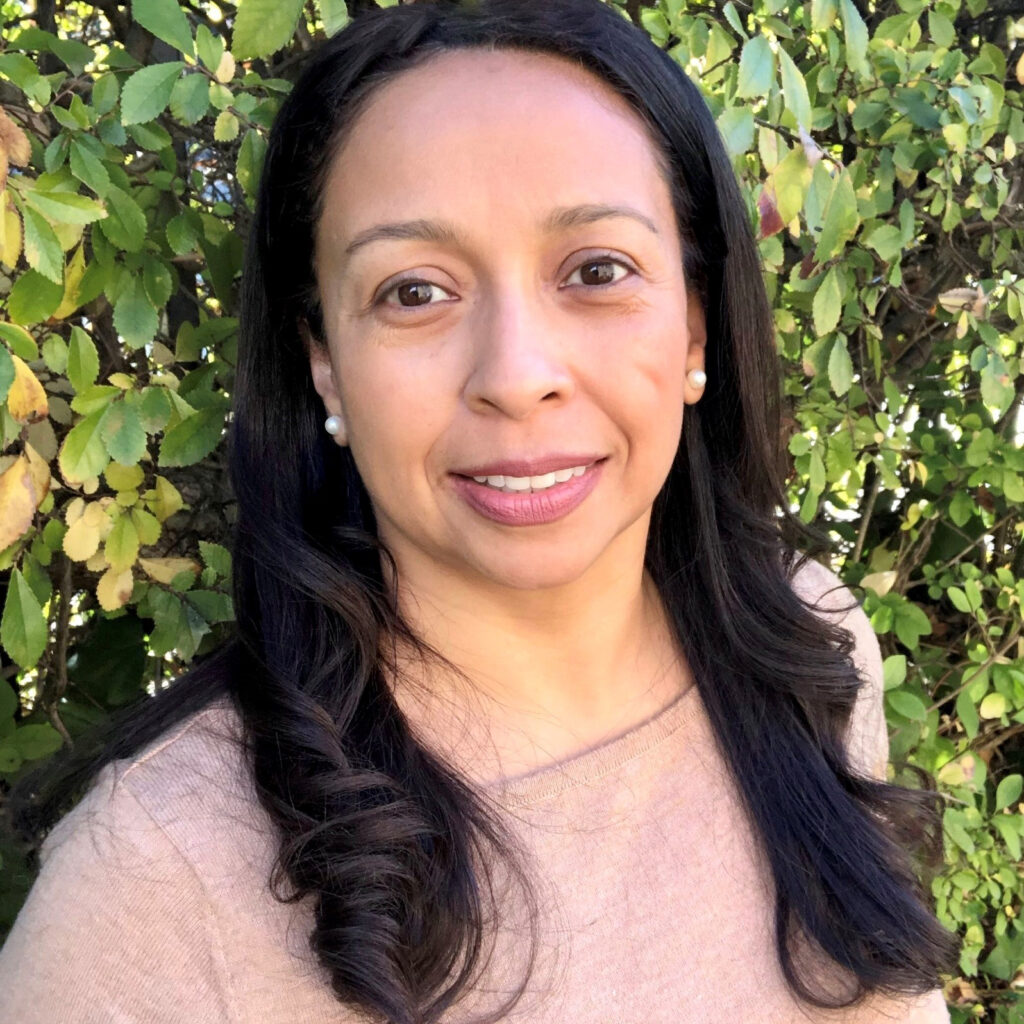 Patricia Albeño has been part of the developmental disabilities community working for organizations that support families who have a family member with disabilities. Her passion and mission is to provide support, information and education to parents who need help navigating the complex system of services. Her experience as a mother of a child with a disability allows her to understand firsthand the challenges and needs of the community with which she works. She has dedicated the past five years to coordinating and organizing Congreso Familiar, a conference for Spanish-speaking families who have family members with IDD. She is a strong advocate for the Latino community because she understands how complicated the disability world can be and cannot imagine learning new systems without speaking the language. Professionally, she has actively participated as a Community Advisory Committee member and chair for Special Education in the West Contra Costa Unified School District, is a former Board Member of the Regional Center of the East Bay, has been a member of the committee for the Autism Star conference, has facilitated numerous Spanish-speaking support groups and conducted IEP trainings and workshops throughout Contra Costa county. She has learned that balancing the needs of her child, successful navigation of various service systems and working full time has been a unique challenge, one that has required her to learn special skills to adapt and continue to be the best parent she possibly can.
JAIME VARGAS – ADMINISTRATIVE ASSISTANT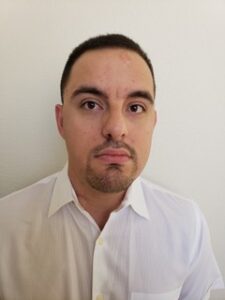 Jaime Vargas completed his Bachelor of Arts degree in psychology from California State University Sacramento in 2020 and joined our team after interning with us in the summer of 2019. As our intern Jaime played a vital role in organizing the Central Valley inclusion conference. Currently he is responsible for organizing conferences and publishing the Monday Morning Memo each week. Jaime was born in Puerto Rico and move to California when he was six. He is bilingual in English and Spanish.
GREG deGIERE, CIVIL RIGHS ADVOCATE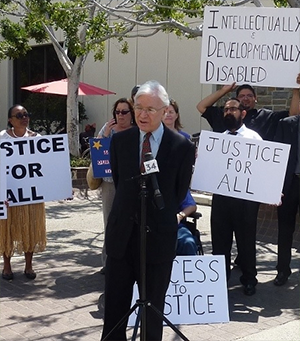 Greg deGiere volunteers for The Arc California as the civil rights advocate and a member of the Public Policy Committee. He has coordinated a working group of California civil rights organizations advocating legislative and Department of Justice action to combat hate crimes. His twin focuses in that role are hate crimes in general and anti-disability crimes in particular, known as the "the invisible hate crimes." A former long-time staff member to Democratic leaders of the California Legislature and consultant to the Senate Office of Research, Greg is also the retired public policy director of the Arc and United Cerebral Palsy California Collaboration. He has developed and drafted major, bipartisan civil rights legislation. He holds a B.A. in political science from San Francisco State University and an M.A. in government from California State University, Sacramento, where he also taught California state and local government.
ELIZABETH GRIGSBY, Consultant – Advocacy and Accessibility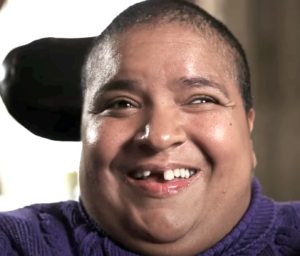 Elizabeth Grigsby has been advocating for people with disabilities for many years. Her philosophy has always been to see everyone as people first and foremost focus on their abilities so we can be able to deal with our disability. She believes that people are much more than their disabilities, which drives her to fight for the rights of all people to ensure that they have the best opportunity to thrive and live a full and productive life. As someone with a disability, she will tell people to not let their disability control them — "we should control our disabilities." She wants to see everyone reach their full potential. She hopes that one day people with disabilities will live in a world where there is no more special needs. Everyone will be going through their lives based on our abilities, and disabilities won't be the issue.