As we all know, California is in the middle of a very dangerous surge of COVID-19 cases and our ICU capacity around the state is nearing 0% capacity.  This still rising surge – mostly a result of Thanksgiving social gatherings – is especially tragic for our community of Californians with disabilities, their families, and their direct support staff.
Figure 1 – Number of Regional Center Consumers Newly Reported at COVID-19 by Week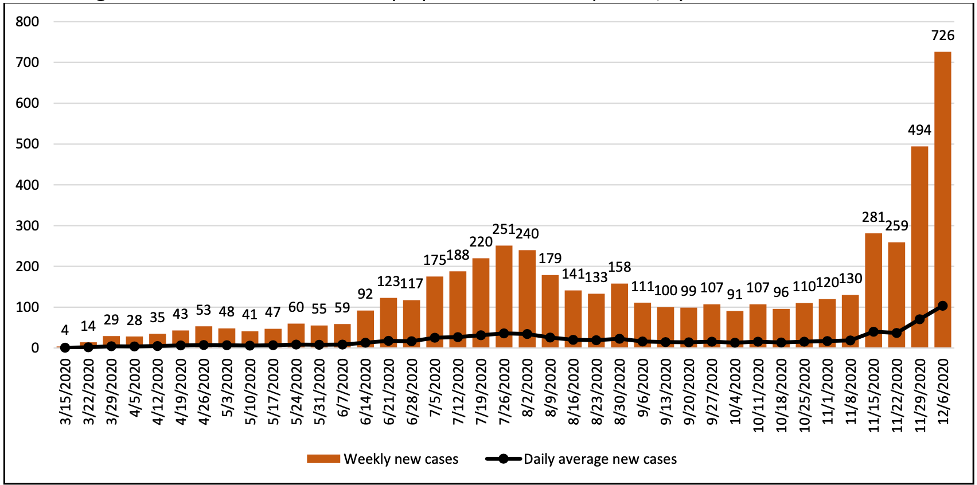 People with intellectual and developmental disabilities (IDD) are at higher risk for becoming infected and three times more likely to die of COVID-19, compared with patients without IDD, a new analysis found.  Additionally, the traumatic impacts of isolation continue to raise urgent and widespread concerns of mental health for people with IDD.  This heightened risk can be mitigated, however, with healthy direct support professionals (DSPs) and family caregivers, but organizations across the state are reporting that this safety net is cracking.
During these Holiday weeks, The Arc of California urges all Californians to protect vulnerable communities by taking all measures to eliminate the spread of COVID-19.
One measure that will help is the recent approval and distribution of vaccines, but many questions exist about who has priority access to vaccines.  The California Department of Public Health, with input from community stakeholders, has published a prioritization schedule for the top level, Priority 1A.  As we have seen, distribution has already begun for medical staff, who are considered to be in the top tier of Priority 1A.  Staff and personnel in nursing facilities and other similar settings are also in the top tier.
As reported from meetings of the Community Vaccine Advisory Committee, direct support staff for home and community-based services, including regional center services, IHSS, home health, and ICFs, AS WELL AS FAMILY CAREGIVERS are in tier 2 of Priority 1A for vaccine distribution.  Based on current projections of vaccine availability, this tier should have access to the vaccine by the end December.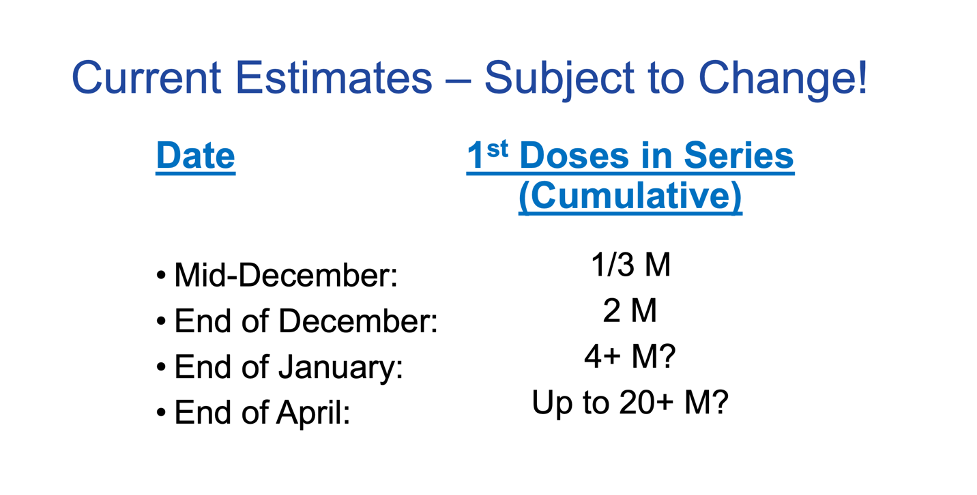 The distribution of the vaccines can be complicated, especially the process for notifying individuals when they have priority access to the vaccine.  The Arc of California urges all family caregivers, service providers, regional centers and others stakeholders in the disability community to be in contact with your county public health office to ensure you have access.
What has not yet been finalized and is still being discussed is Priority 1B.  Currently, individuals with disabilities are NOT included in Priority 1B.  Discussions about this priority level have mostly revolved around essential workers, including agriculture, education & child care workers.  The Arc of California argues that individuals at greatest risk of serious illness or death should also be included in Priority 1B.
If you would like to submit public comments to the Community Vaccine Advisory Committee you can email them to COVID19vaccineoutreach@cdph.ca.gov.  You can view public comments submitted by The Arc of California here.
The Arc of California recognizes the unique history between the disability community and vaccines, and we encourage all individuals and families to make an informed decision about the efficacy and safety of vaccines, along with the risks of not taking a vaccine.  Last week the State Council on Developmental Disabilities conducted several listening sessions to hear individuals share their thoughts, hopes, and concerns on this topic, and The Arc of California will work closely with The State Council to provide information to the community.