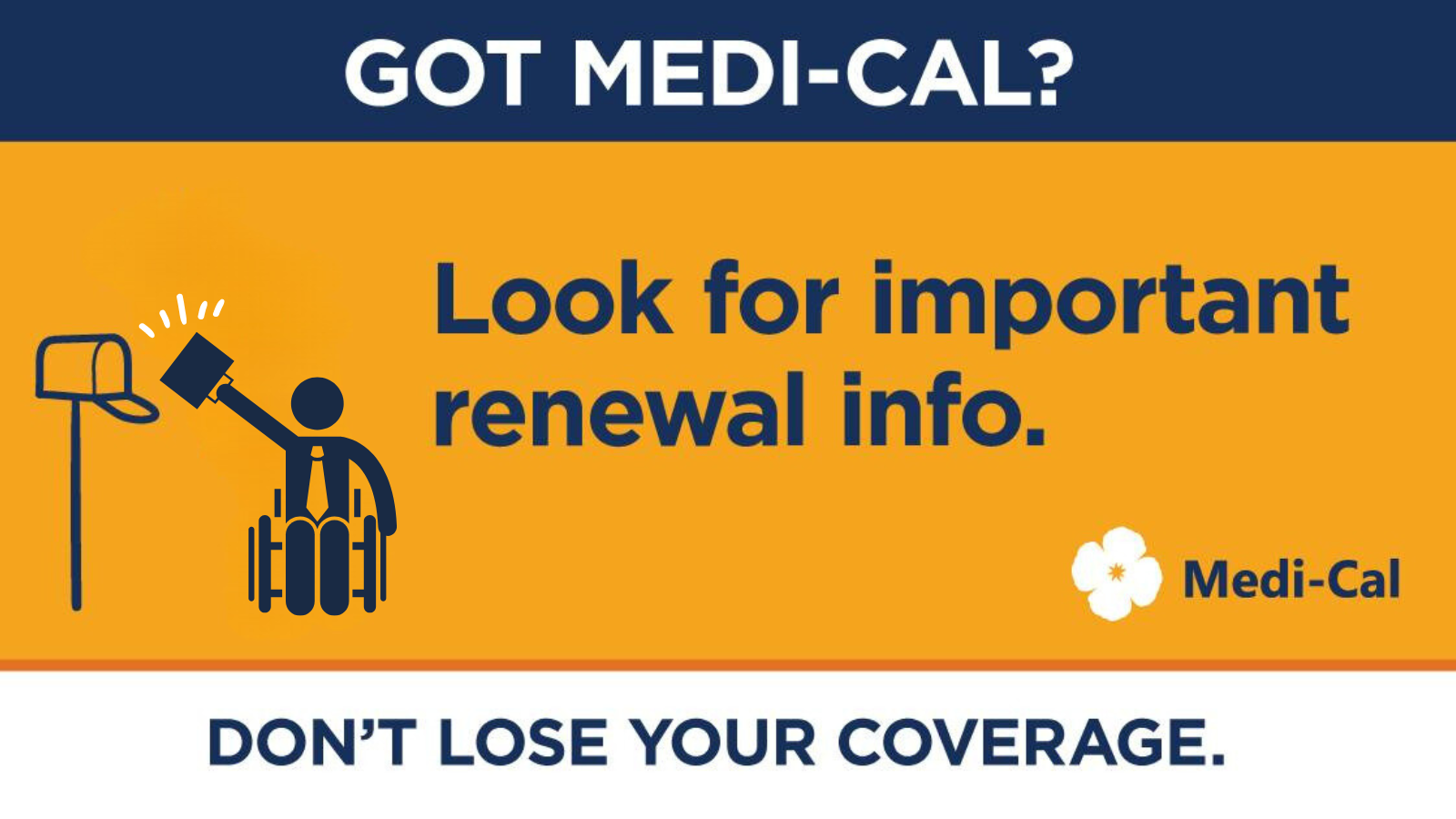 Take action to keep your Medi-Cal coverage! This is what you need to know:
The public health emergency has ended. As of April 1st all people who receive Medi-Cal, California's version of Medicaid, coverage will need to complete the annual renewal process again, just like before the pandemic. Millions of people risk losing their Medi-Cal coverage if they don't go through the renewal process. Below are resources to explain Medi-Cal benefits, how to complete your renewal, and where to find more help. Watch the video above to learn more about renewing your coverage.
WHAT IS MEDI-CAL?
Every state has its own Medicaid program and each state has different names for the program. Medi-Cal is the name of California's Medicaid healthcare program. Medi-Cal provides health coverage for people with low income and asset levels who meet specific eligibility requirements. Medi-Cal also helps to fund many regional center services that consumers can use to live, work, and play in their community. 
To learn more about Medicaid visit: 
WHAT SERVICES DOES MEDI-CAL PROVIDE?
Medi-Cal healthcare covers most medically necessary care for its members. This includes doctor and dentist appointments, prescription drugs, vision care, and mental health care.  There are three main programs under Medi-Cal that help fund some regional center services; the Home and Community-Based Services (HCBS) Waiver, 1915(i) State Plan Amendment, and Targeted Case Management.
These are a few services that Medi-Cal helps pay for: 
Respite, Day programs, Tailored day services, Independent living services, Transportation, Supported Living Services, Supported Employment, Crisis intervention, Skilled nursing, Social skills therapy, Behavioral supports, Dental services, Cognitive rehabilitative therapy, Neuropsychology services, Housing and vehicle modifications, and Assistive technology 
To learn more about waivers and how Medi-Cal affects people with disabilities visit: 
HOW DO YOU APPLY FOR MEDI-CAL?
To be eligible for Medi-Cal, you must be a resident of the state of California, in need of healthcare/insurance assistance, and be financially characterized as low-income. You must also be one of the following; a person who is blind, has a disability, is over the age of 65, or is pregnant. 
If you get Supplemental Security Income (SSI), a benefit for seniors, blind, or disabled, you get Medi-Cal automatically. You do not have to fill out additional paperwork.  You can apply for Medi-Cal online, in person, or by mail. 
To learn more about the different ways to apply for Medi-Cal visit: 
HOW DO I COMPLETE MY ANNUAL MEDI-CAL RENEWAL?
Every year any person who receives Medi-Cal coverage and services must complete a renewal packet. Each Medi-Cal member will be contacted by their local county office to complete the renewal packet. Most renewals need to be completed during the same month each recurring year.  If you get Supplemental Security Income (SSI), your social security office will assist in completing your Medi-Cal renewal packet 
To learn more about Medi-Cal renewals visit: 
WHAT HAPPENS IF I AM NO LONGER ELIGIBLE FOR MEDI-CAL?
If you are informed that you are no longer eligible for Medi-Cal there are a few action items you can look into to help figure out the next step. 
To learn more about why your Medi-Cal coverage ended, how to ask for a fair hearing to review the decision, and more information about Covered California, visit: 
WHERE CAN I GET MORE HELP?
Dealing with Medi-Cal processes can be overwhelming and confusing. 
If you or a family member need additional help understanding any part of the Medi-Cal processes please visit:
CLICK HERE to contact The Arc of California for any additional questions
HOW TO BECOME A MEDI-CAL ADVOCATE?
Medi-Cal is a vital lifeline for many people with disabilities. We must work together to protect and improve all the services that Medi-Cal provides for our communities!  Get Involved!
TELL YOUR STORY!
Share Your Medi-Cal Story with The Arc of California to increase awareness of the value and necessity of Medi-Cal coverage. Complete this interest form and a representative will contact you for the next steps. All storytellers will receive an Amazon gift card! To view previous stories click here. 
CONNECT WITH US ON SOCIAL MEDIA
Follow the Arc of California on Instagram, Facebook, Twitter, YouTube. Like and share all posts about Medi-Cal and its importance. 
SIGN UP FOR ACTION ALERTS
Subscribe to the Arc of California's Monday Morning Memo to stay-up-date with any new Medi-Cal information.