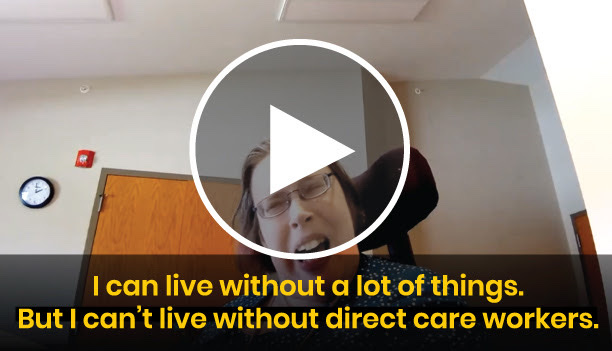 Millions of people with disabilities rely on home and community-based services (HCBS) to stay in their communities and out of congregate settings, but there isn't enough money in the program to support everyone.
More than 820,000 Americans are on waiting lists to receive HCBS and are not getting the services they need.
Last month, Susan, an advocate from Ohio, spoke at a roundtable briefing on Capitol Hill to tell Congress that #CareCantWait for the thousands of people stuck on waiting lists. For Susan, staffing shortages caused by an underpaid direct care workforce, meant she had to go in a long-term care facility rather than live at home.
Today, she's asking Congress to fund HCBS so people with disabilities can access critical services and supports and live in their own community.
Join Susan today by telling your members of Congress to fund HCBS now!Take action now!