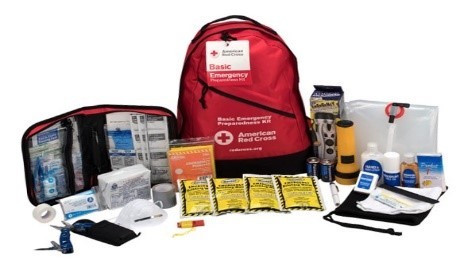 Join California State Council on Developmental Disabilities (SCDD) Sacramento Regional Office for an Emergency Preparedness Training and receive a three-day pre-packed Red Cross Emergency Backpack.
Training is for adults with intellectual or developmental disabilities (IDD) or parents who have a child (of any age) with IDD who live in Sacramento, Placer, Nevada, Sierra, Alpine, El Dorado, Yuba, Sutter, Colusa, or Yolo Counties.
You must attend an online training to receive a Red Cross Backpack. Only people who have not previously received a Backpack from SCDD will be eligible to receive it through this program.
Please pre-register for only one of these upcoming trainings by clicking on the link below. Disaster supply kits are limited! Register today!
• Monday, November 15, 2021 | 10:30 to 11:45 a.m.
• Saturday, December 4, 2021 | 4:30 to 5:15 p.m.
• Wednesday, December 8, 2021 | 5:00 to 6:15 p.m.
• Wednesday, January 12, 2021 | 7:00 to 8:15 p.m. (English with simultaneous Spanish Translation and ASL Interpretation)
If you need further assistance, including disability-related modifications or accommodations, you may contact Peter Mendoza no later than five calendar days before the meeting at peter.mendoza@scdd.ca.gov or call 916-670-0407.