Participating in outdoor activities can be exhilarating, offering us a chance to feel the calm assurance of our own capabilities while immersed in the beauty of nature. For people with disabilities these opportunities can be difficult to find. Fortunately, the United States Adaptive Recreation Center (USARC), in Bear Mountain Ski Resort in Southern California, offers adaptive skiing in the winter, and adaptive watersports and camping in the summer geared towards people with I/DD as well as physical disabilities.
Outdoor sports can be intimidating for anyone who hasn't tried them before, and people with disabilities are right to be especially cautious. This is why the USARC is an ideal place to start. Their ski program offers one-on-one instruction and access to a variety of highly specialized adaptive equipment. Each student is individually assessed, outfitted with the right gear to meet their needs, and taught at a safe yet challenging pace by a professional instructor at the on-site adaptive ski school.
The USARC works with schools, hospitals, rehabilitation centers, and parks and recreations departments to teach groups of adaptive skiers as well as taking individual reservations. Ski season runs from December through March so there is still time to hit the slopes!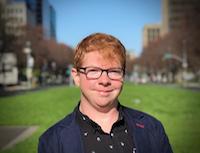 Christian McMahon
Communications Specialist