The Office of Developmental Primary Care, UCSF Department of Family and Community Medicine, has published their 2018 Annual Report which highlights their accomplishments and dedication to ensuring all people with intellectual and developmental disabilities to the health care services they need to maximize their wellness and function. Dr. Clarissa Kripke leads the ODPC team in partnering with self-advocates and stakeholders to develop the health care services and health workforce that are so important in meeting the unique needs of individuals with I/DD.
The CART Model (Clinical Services, Advocacy, Research and Training) is an exceptional model that encompasses all aspects of health care delivery and puts research into practice. Thanks to the hard work and leadership of Dr. Kripke and her team the CART Model is recognized as one of the most successful models of care delivery for people with complex needs. Though the practice location is in San Francisco (and serves the Bay area), the OPDC has become an incredible resource throughout the state as they share their expertise through a wide range or initiatives, trainings and materials.
Congratulations to Dr. Kripke and her team at the Office of Developmental Primary Care on another successful year of improving the behavioral and health outcomes of people with I/DD in California. I encourage everyone to read the annual report and see for yourself just what a valuable resource they are!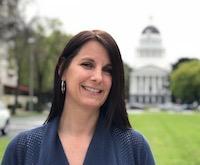 Teresa Anderson
Policy Director
The Arc & UCP Collaboration