Last Wednesday, October 24th, at the Concord City Council Chambers, the Assembly Select Committee on Intellectual & Developmental Disabilities held their second informational hearing. The Committee Chair, Assemblyman Jim Frazier from Contra Costa, was joined by Assemblyman Tim Grayson from North Bay, Assemblyman Heath Flora from Stanislaus and San Joaquin Counties, Assemblyman Evan Low from San Jose and Silicon Valley, and Assemblyman Kansen Chu from East Bay, and together they heard testimony from dozens of advocates from the I/DD community.
Throughout the hearing the elected officials heard the community describe the need for additional funding to improve and sustain the system of supports and services. Specifically mentioned and discussed was the need to capture the savings from the closure of the developmental centers and direct those savings toward the community.
Select committee's don't vote on legislation; however, legislation often gets created as a result of issues and comments discussed during the informational hearings. The video of the hearing can be viewed above.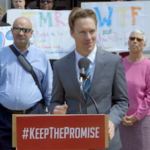 Jordan Lindsey, Executive Director, The Arc of California